Metro Detroit Michigan
DJ Sound Equipment Rental
Take your party from ordinary to
EXTRAORDINARY
using the same equipment DJ Eddie uses for his own valued clients!

2016 Holiday Special


Book A DJ Sound System Rental in December
and receive a FREE Lighting System add-on! Valid for any future event in 2016 or 2017 ($75 Value)!
Now through December 31, 2016
Click Here To Get Email Offer
or call (810) 3 4 3 - 0 1 9 4
You bring your own...
iPod, iPad, Laptop, Android, Tablet or CD's
...And we'll supply & set up a complete, top of the line commercial sound system right at your venue!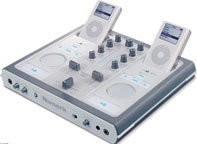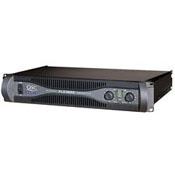 All rentals include free delivery (in the tri-county area only), set-up, tear-down & general instructions for use.
'Top of the line' means you're getting the right high end, professional equipment meant for the job of dj'ing in a public setting... If you're using Ipods, and rent the Ipod System, you will get an actual Ipod Mixer (not just a connection), which docks, powers & controls one or two Ipods for the whole event. If you use cd's or a laptop, you will get a Rane (the industry standard), or Denon Mixer... The ultimate in reliability & sound!
It's like having your own road crew!
Complete with 2 speakers, amp, mixer, dual cd player (or Ipod mixer), microphone, and all cables. Our systems are suitable for events from 25 to 600 guests!
FAQ: "What if I don't have an Ipod"?
Answer: Almost any source of music player can hook into the mixer... Ipods, Androids, any Mp3 Player with a headphone output, laptop computer, desktop computer, cassette deck, and of course if you have cds, one of the available systems includes a dual well professional cd player.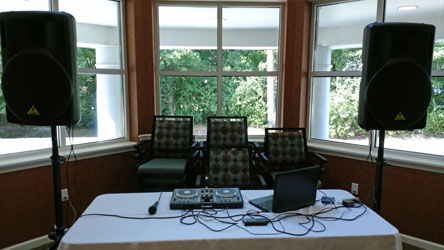 The Pro
---
Prices
Three systems to choose from (all include delivery, set-up and tear-down):

The Wedge (perfect for most events up to 150 guests and/or small spaces)
Includes two table-supported 'wedge' type speakers, with a 1,000 watt amplifier, wired microphone, and your choice of mixer.
Starts at $195

The Pro (perfect for most events with up to 300 guests)
Two professional powered speakers (1,100 watts) on stands, wired or wireless microphone, and your choice of mixer. This is truly a sleek, professional DJ system!
Starts at $225

The Power (perfect for any event with 200-600 guests - necessary for playlists heavy on bass):
Two floor-standing (recommend stage) 1,500 watt speakers, with a 3,000 watt amplifier, wired or wireless microphone, and your choice of mixer.
Starts at $325

All starting prices are for Monday to Thursday Rentals. Add $70 for Friday to Sunday.
All prices are good for up to 12 hour rental time.
Prices good for Wayne, Oakland & Macomb Counties Only... Travel charges apply anywhere else.

Multi-Day Rentals are also available.
Because we set up and tear down, we do not require a security deposit!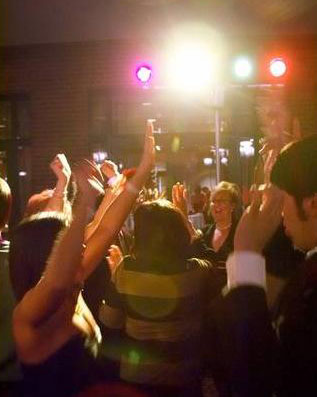 Add-Ons
← Lighting - $75
4' Light bar with 4 multi-colored par cans on a height-adjustable tripod stand, with a light controller. You can turn the dance floor different colors, control brightness (dimming), there are chasing effects, all-on, blackout, and they also go to the beat of the music (audio-sync).
Wireless Microphone (Lavalier or Hand Held) - $25

Big Crowds - Start at $75
Additional or larger speakers and amps available for crowd sizes up to 1000 guests.
Wall Wash Uplighting (your choice of color) - $25 Per Fixture
Hire A Professional DJ
For an additional $375, we can provide you with a Professional DJ to handle your special event for up to 5 hours performance time.
Signed Rental Agreement and 50% deposit at booking are required for securing all rentals.
Call 810-343-0194
---
Recent Equipment Rental Testimonial
Event Date: September 5, 2014 (Don & Alexandria)
Event Type: Outdoor Wedding Ceremony
Event Location: Earhart Manor – Concordia University (Ann Arbor, MI)
Rental Details: DJ Equipment, Wireless Mic, Disc Jockey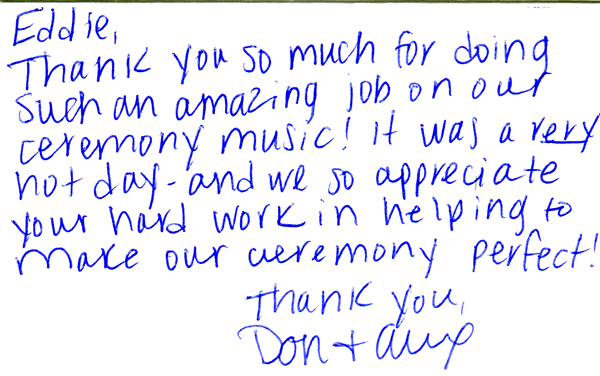 ---